Sean Perkin

is a successful entrepreneur who uses his traveling experiences as inspiration for his properties at

Sean Perkin & Associates

.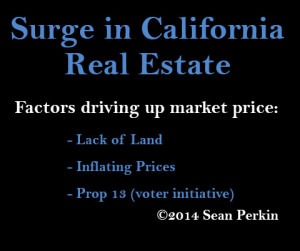 Their once humble portfolio has grown extensively over the years and includes multiple single family residences, apartment buildings, and other value added opportunities throughout Southern California.
Sean Perkin refers to investing as a dance that involves a lot of skill from many different people. He believes that the main keys to success are discipline, timing, and a working knowledge of the market. More savvy business strategies can be found on his website, seanperkin.com/blog.
According to a recent article in Forbes, there has been a surge in California real estate that is not ideal for qualified buyers looking for a home. It is, however, a prime time for investors like Sean Perkin to capitalize on the market. Along the west coast, it is becoming nearly impossible to find reasonably priced real estate. Several factors are driving the market higher, including:
Lack of Land- Land is scarce in the most desirable California neighborhoods and often requires purchasing an already expensive home and replacing it with one three times as expensive. This is ideal for homeowners nearby, but difficult for prospective home buyers.
Inflating Prices- As buying a home can take months, foreign buyers take advantage of this by providing all-cash offers that are often above asking price. Unfortunately, this drives up the price for others.
Prop 13- This voter initiative caps property tax rates at 1.25% while also freezing assessed property values at their original purchasing price. This skyrockets prices as older homeowners are disinclined to sell.
Investment property ownership add to the many reasons inventory is limited in California. After the financial crisis when real estate hits bottom, many investors devoured short sales and foreclosures. Now that many people cannot afford a house on the west coast, it creates the need to rent. In steps investors with their newly converted properties. Like Sean Perkin states, discipline, timing, and a working knowledge of the market are critical in order to be successful in the industry.
Learn more about Sean Perkin and his California properties here: http://seanperkin.tumblr.com